Painting Invoice Template with Colorful Background
Painting:
Painting is an art which is converted on a solid surface with paint and colors. This art is of an equal importance in the modern world for the visual description of the expression for an artist. For the paint, main equipment to use is brush and the colors. Painting is a mode of creative expressions and it can be done in numerous forms e.g. canvas, drawing and gestures.
Idea Generation:
A painting has played an important role in history as well to mention, explain and dominate spiritual motifs and ideas. There are numerous painting ranges for example mythological figures on the pottery. Biblical scenes and Buddha are also one of the examples for these kinds of paintings. The idea of painting was generated from there when people explain their love, sorrows and all the concerned expressions via painting in the form of a figure or some abstracts.
Painting – Transforming thoughts:
Painting transforms ideas into expressions which can later be displayed or predicted by the people coming later in the era and watching those paintings. There are so many artists who came and went by, they had this habit of predicting the future or depicting the past via their paintings. It transforms thoughts, ideas, and spiritual minds into the piece of brush with the art. In artwork, painting explains both the meanings, thoughts and the result of actions.
Support of Surface:
Major support of surface for painting are;
Canvas, Wood, Vas, glass, clay, leaf, copper, Lacquer, wall, paper.
Sand, Clay, Paper, Plaster.
Painting Invoice:
This Painting invoice template consists of the following content;
Invoice number and date.
Details of the Painting service company.
Details of customer e.g. name and contact number.
In the drop down there are details of the quantity of work. For a painter, he would always sell his work to the people who really appreciate the work and look for it.
Description of work is mentioned in the middle of the receipt.
In the extreme right corner, the price of the product is mentioned.
In the end, the subtotal is mentioned inclusive of taxes.
Grand total depicts the total amount on which people purchase the object.
Preview Image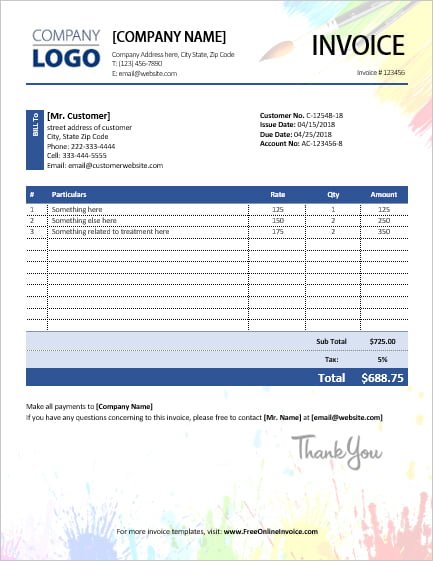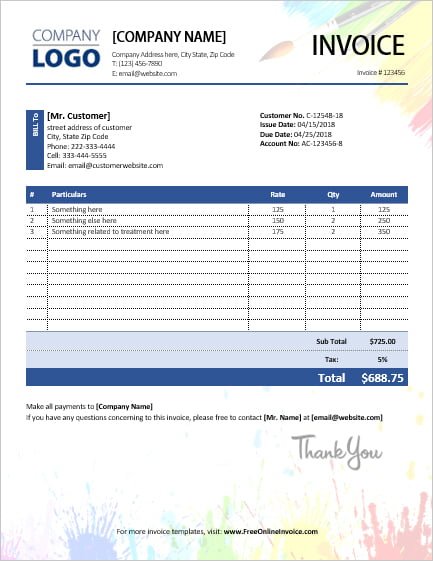 File Type: MS Word (.docx)
File Size: 714 kb  (enclosed in a zip file)
Zip File Size: 702 kb
Printable Paper Size: Letter (8.5″ x 11″)