Exclusive Computer Sales & Service Invoice Templates for MS Word & Excel
An invoice plays an important part in business activities, which assembles details regarding various small and large transactions related to a business operation. It serves as proof for payments and services between a company and its clients.
A computer sales & service invoice is a document which is offered by the computer selling companies to their clients on the completion of a successful sale on any product. It shows details such as date of purchase, payment method, total amount, discounts availed, model number, service charges, and much more.
The computer sales invoice template created using Microsoft Excel and Microsoft Word is a highly professional tool for businesses that specialize in computer sales and services. It helps them in managing various details using a single software.
Through the template, users can now create high-quality invoices for their computer sales and service activities. The invoice template helps in storing details such as the name of your business, details of clients, business logo and slogan, details of computer products and accessories, and other related information in a highly professional manner.
The template has lots of useful features for growing IT companies that are planning to expand their operations. The template contains a default logo design that can be easily changed and replaced by your own company logo for increased efficiency.
It is completely free for all kinds of businesses. Just download the template in either MS Word, MS Excel, or OpenOffice format and enter all important details of your business activities and the rest of the process becomes extremely simpler and easier.
Below is a screenshot to see how this template looks like.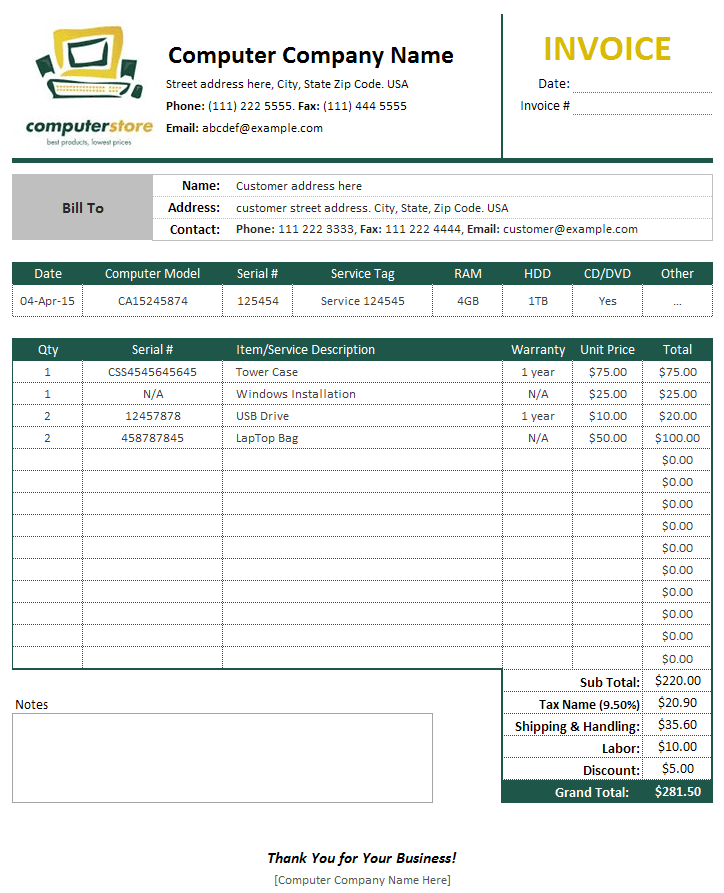 MS Word Format
MS Excel Format