Medical Invoice Template
Medical:
Medical is a process which is related to the injuries and illness and anything which gets treated by the doctor or physician is considered as a medical treatment. This process includes anything that happens to your body or any regular checkup in which one is involved with the physical checkup these are the terms which describe medical.
Wellness Checkup:
Most of the people do not opt for the medical checkup who are under the age of 40, because they consider themselves disease-free while on the other hand people who cross 40 are the people who consider themselves as they are in need to go to a doctor and get themselves checked.
On the other hand, people should get the treatment on regular basis. It is of the following help for the patient;
A medical practitioner can find a better cure for any disease if it is diagnosed at an earlier stage.
Disease would not spread in the body much. Which will result in lesser harm in the body?
To identify risk factor for any congenital disease.
To promote a good gesture in the society as they are socially responsible for spreading health awareness in the people around.
To enhance intellect of a person by increasing his mental stability and physical fitness.
Must Do's:
While opting for a medical treatment one should cater following things in mind;
There should be authenticated physician/practitioner for the treatment.
He should be able to diagnose the root cause.
If there is any identification of any disease, they should be able to work on it on an immediate basis.
A medical checkup is inclusive of all the x-rays, ultrasounds, regular checkup and body treatment.
Medicines which are advised by the doctor to take on a regular basis are part of complete medical treatment, proper intake of these meds is a must in this scenario.
Medical Invoice;
Medical invoice is an invoice in which all the details regarding medicines which are prescribed by the doctor are provided to the patient. This invoice includes the following parts in it;
Invoice number and date.
At one side of the receipt, there are details of doctor / medical practitioner.
Contact number and address of the doctor.
On the other corner there comes patient name, contact number, age & address.
In the description box there comes Patient name, age, weight, date of birth, height, date.
Below the details there comes quantity of medicines.
In the description box, all the description and doze intake are mentioned.
In the next column there comes the price.
Total inclusive of taxes.
Preview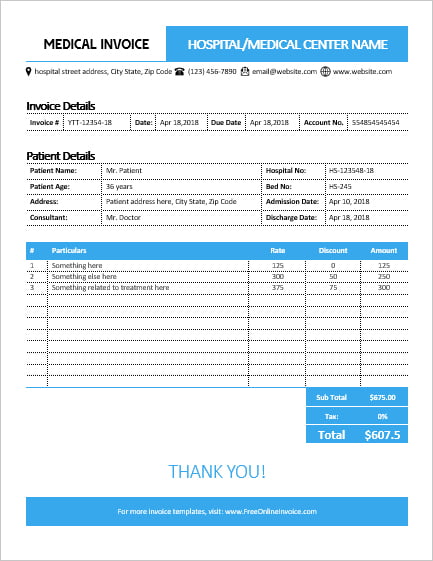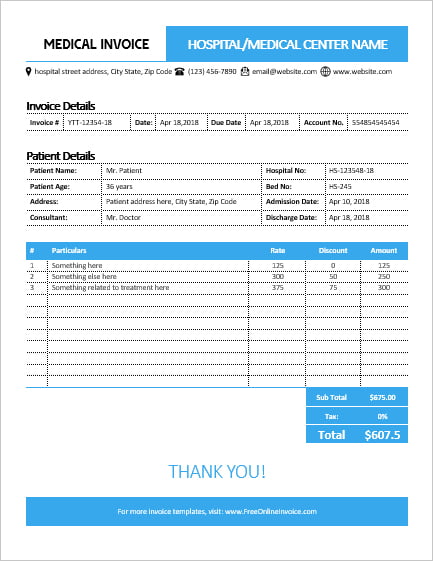 File Type: MS Word inclosed in a Zip File
File Size: 60.9kb (MS Word), 52.1kb (zip file)