Past Due Invoice with Professional Contents
Past Due:
Past due is a loan amount which has not been paid on time at the dues payment date. People who borrow something or a loan, it has a time lapse to return that loan or borrowings which if not paid would keep on adding the interest and that amount which is yet to be paid is called past due it is also known as overdue. That date has been extended by the lender and has a grace period of time for the borrower to pay it back.
Procedure:
There is a certain procedure for paying the past due back to the lender. If the lender has given a money they expect the borrower to give it back to him within a specific time period. If it has not been paid in that time span it would be considered as a late fee or a grace period would be given by the lender. Let's say a bill was about to be paid till 10th of every month. If it has not been paid till 10th then it would become past due amount and if grace period of 10 days would be given then it would be submitted with late fee charges and would not be submitted after 20th of the month.
After that legal action takes place and all the decisions are made keeping law, rules, and regulations in the consideration. Past due is an amount which needs to be taken care of at any cost otherwise it can cause heavy damages to the borrower party.
Point to ponder:
While choosing to take the loan or any borrowing from any lender, there are following things which should be taken into consideration;
Never delay the payment process for any kind of investment. It can add late fee and additional markups as well.
Keep track of your payment schedules to avoid any inconvenience in the future.
Past Due Invoice:
This Past Due invoice consists of the following major contents;
Customer Number and details (Name, Address, Company Address and info).
Date and invoice number.
The paragraph starts with a description box of the customer name along with the amount which he has to pay and the date on which he has to pay that certain amount.
Due Date and total dues count are mentioned at the end of the paragraph.
Another paragraph is used to add the remarks and remembrance of payment on time.
Signatures of lender along with his company name.
Preview Image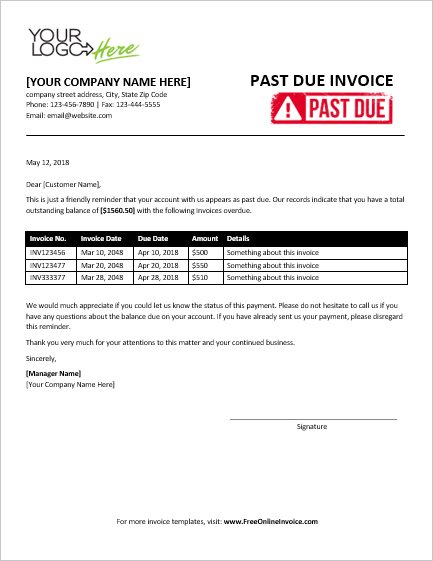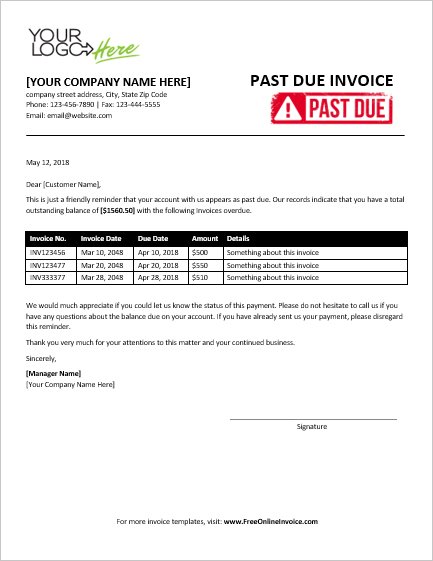 File Type: Microsoft Word (.docx) enclosed in a Zip File
File Size: 179 kb
Downloadable Zip File Size: 176 kb
Print Page Size: Letter (8.5″ x 11″)